At work, some colleagues or customers will inevitably ask questions such as how to operate and how to do it. In your free time, you can make a step-by-step document or teach others. But if you are busy, the easiest way is to directly record a shot video and send it to each other, saving time and effort.
At present, most of the screen recording software on the market are charged. If you use the free version, you have to endure watermarking problems and unclear exported videos. It doesn't matter if the recorded video is sent to a colleague or friend, but it may be a bit informal to send it to a client. Moreover, some media practitioners, recording some videos with third-party logos (watermarks) and posting them to the media platform, are easy to be punished and downgraded by the platform.
However, don't worry. Today I'm going to recommend a very useful free online tool, RecordCast screen recorder.
RecordCast is no need to install a Java program. You even don't need to install a launcher the first time you use it to record the screen. All you need to do is open the online tool and record your computer screen for free.
User's guidance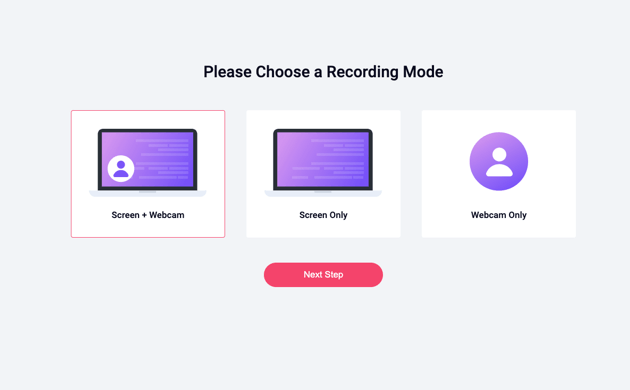 First, open the website and click the "Start Recording" button on the homepage to start the online screen recording software.
Next, confirm the recording mode and select the audio recording options to start the screen recording.RecordCast offers three recording modes: Screen only, Webcam only, or both simultaneously. You are allowed to record audios using your microphone, system audios, both or no audio. After recording mode and audio options are decided, you have to choose the recording area to start your recording. RecordCast makes it easy to record your screen with the entire screen, an application, or just a Chrome tab.
Now, you are recording. Here you can still pause your recording anytime or continue it anytime you want. You even have the option to re-record it from the beginning.
Finally,when the video is finished, click the stop button to download it to your computer. Or edit it using RecordCast video editor to polish your recording with text, music, etc.
RecordCast video editor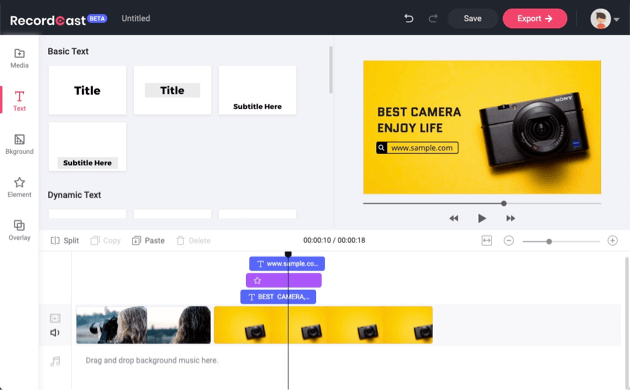 It is built in a video editor so that you don't need to look for any other video editor if you want to make some edits after the recording. Just click the Edit and Export in MP4 button to make it. Add some text annotations to tell your friends what you want to convey. You are free to fine-tune the text font, color, size, alignment, etc. You can do more if you take a look.
What I love
This online screen recording tool is a page application, so you can open the application on the web page and record all activities on the computer screen.
Screen recording scenes
It supports all activities on the screen, such as personal presentations, teaching videos, instant chat, live games, online videos, etc.
Simple, convenient and fast
You are able to easily record a variety of video content (lecture videos, funny videos, teaching videos, etc.) with just one click. RecordCast free online screen recorder has a simple interface that can guide you to master the whole process of screen recording quickly.
30 minutes for each recording
With RecordCast, you can record TV shows, online courses, etc. up to 30 minutes for each recording. If you want to have a longer video, upload several recordings to its video editor and export it to 1 hour.
Multiple recording areas
It enables you to record activities in a certain area according to your needs. Or you can record the entire computer screen and from the webcam with the screen simultaneously.
The flexible screen recording method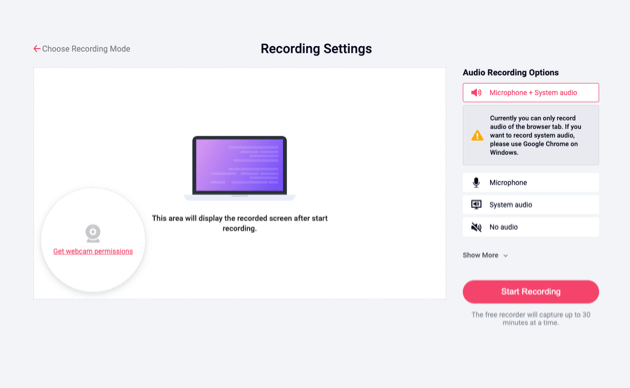 Using the RecordCast online screen recording tool, you can not only record sound and images at the same time but also record the camera to make teaching videos at the same time. You will perfectly record your explanation and operation steps during the teaching process. In addition, you can freely adjust the size of the your own camera screen according to your needs.
Keep sound and picture synchronized
This free screen recording tool can simultaneously record pictures and sound, so you can use it to record computer screen activities while adding sound from the system or microphone. This is also a vitally important reason why many users like this software.
Built-in video editor
You can add text, music, image, and other elements to the video to make the video more vivid.
HD output videos
You can finally output the recorded video in three resolutions for free in just a few clicks, 480p, 720p, 1080p. All of the output videos are free without a watermark. So you can easily upload the video to the web or watch it on your device.
My optional
There are various applications for recording your computer screen. But not all of them are free and can export HD videos without watermarks. RecordCast is one of them which can make it. With the possibility of capturing audio and video, it is an excellent resource in various situations.
If we want to take a screencast of the screen on our computer, RecordCast is one of the best choices for you. It offers remarkable features. Just go and take a look.